One argument I have began to see more often by the rationally depraved New Atheists is that Christian history is so absurd that it must be false. Since they are products of history (despite their objection to the possibility) and since they accept their history of materialism, nominalism, and oftentimes British empiricism (basically occultism) this claim of theirs is of no real surprise.
However, they live in a bubble or echo chamber of their isolated worldview that relies on pop science (which most genuine scientists find frustrating to no end), propaganda which is considered history by the oligarchic institutions of politics, media, and education (which lusts for power and control of others), and a corrupted mind (thanks to all of the above). In this tiny universe, they always are confounded which expresses itself as envy most times or misdirected hatred (which should be reserved for the Devil and his machinations). They embrace such evil and so this is why they are miserable and bitter creatures.
Anyway, inside this bubble they still cannot escape the natural order of things, they just tightly close their eyes to it. When they cannot escape this natural order, they wish or work to pervert it in their lives or surroundings. The natural order of things has patterns. It started with God's creation of the cosmos. In man's life, this natural order began when God formed Adam from the dusts of the earth and breathed in him His breath of heaven. As Adam grew in number (that is as the human race began to multiply) we see these pattern emerge on a social scale, then historical scale. When one sees the Lord's guiding principles at work and man as the meeting place of these, the world is full of wonder and enchantment. When we exist geographically, chronologically, and intellectually removed from the Incarnation (or rather closer to the end of the world) such crazy ideas such as history has no cosmological symbolism at work have emerged. To believe in such a silly proposition or atheistic view of our own history brings a distance between the love and meaning that can fill our life. This love and meaning is the center of our life and when those move to the edges of chaos by such neglect they become monsters, as we can see due to the havoc they wreck on society.

Some might excuse patterns in history as pulling relevant examples to prove the point. However, below are extremely significant examples. Yet the criticism might still stand. Part of cosmic symbolism takes into account how our memory and attention works. Symbolism is a language of our consciousness which is why so many patterns span geography and history. This pattern is a common one to which mankind cannot resist an attachment. That phenomenon in itself validates the point that the traditional worldview seeks to make.
An example will be put forth that history has cosmic symbology at work. The evidence is overwhelming and constant when one reads the Scripture. The fullness of history being told in the Bible. However, for those who do not listen to evidence from the Bible, you still cannot escape this reality. The example given is significant political changes in history. Most all seriously major historical change begins with crossing water. The materialist mind will think, "Water? What does water have to do with political change?" The traditional mind will think, "Water. Of course we see water present at times of great change." The simple explanation is water is a symbol of chaos. Political changes are a collapse of old order the the rising of new order. During this transition from one order to another order is a time of chaos, so water is very often present. I willl end this brief post by showing how you already know this to be true by a diversity of historical examples.


Caesar's crossing of the Rubicon. So infamous in the transition of the Republic to the Imperium that it has become a common cliche in our vernacular, "crossing the Rubicon."

Battle of Changping. Not only in Rome, but even in the Far East (China) the age of small kingdoms and republics transitioned to a unified imperium when the Qin overthrew the Zhou. This began the legacy of China that we come to know and is speculated even that our word "China" comes from the "Qin" legacy.
Battle of Milvian Bridge. Probably the most significant event in world history, especially Western history, is the downfall of paganism at the sheer might of Christian truth. This crucial turning point is when a Roman Emperor's love of good met with God's revelation to him that Christianity was the highest good for the world and his empire. Of course, I refer to Emperor Constantine the Great.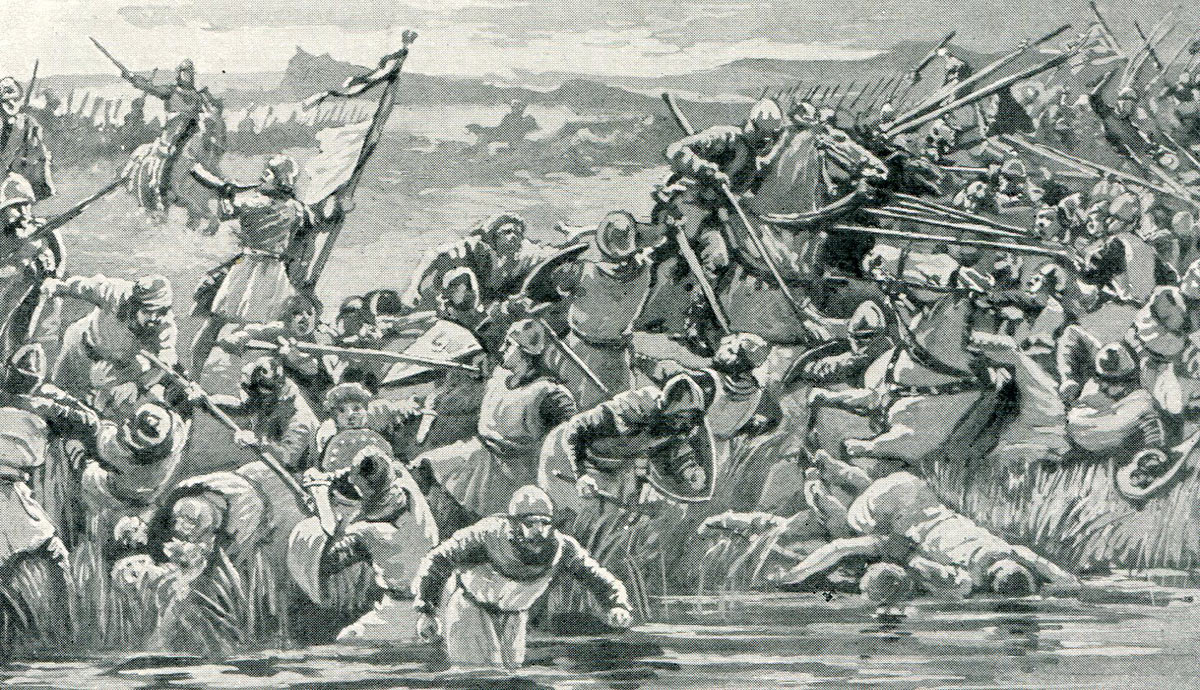 One that has personal significance for me (since my ancestors made up the most significant army present) is the Battle of Bannockburn. Even on the northern island of Brittania, on the outskirts in time and space of a once large and powerful empire, one culture sought for independence from an invading culture. This turning point and lasting victory came when Robert the Bruce repelled Edward the II armies across a swamp and river.
And every American has seen this...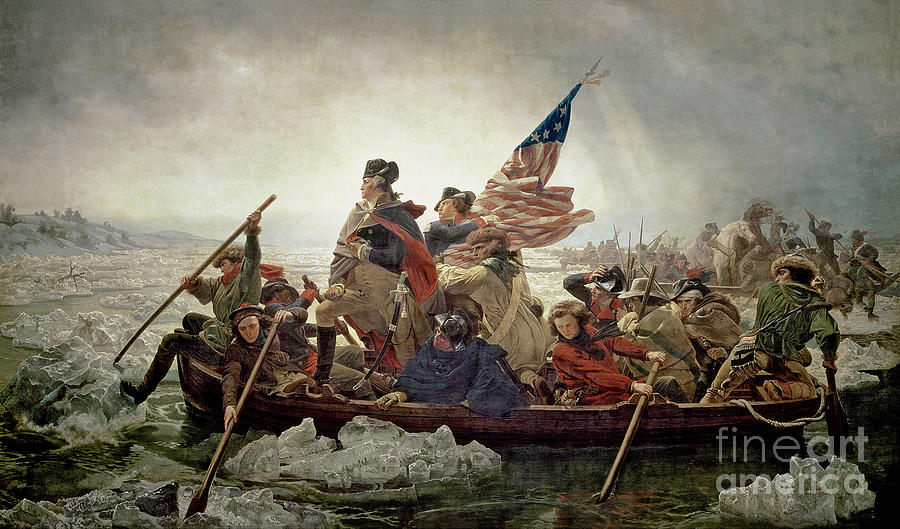 Even as recent as American history, you see this symbolism at work. The turning of the American Revolution occurred at the crossing of the Delaware River. And who could possibly deny the huge change that America has brought upon the whole world? Without the success of this exact historic episode, the army would have died in the middle of winter and there would be no America... it all started to come about with the crossing of a river.